First Newfoundland Earns AKC Agility Title
by Ann Dunnigan
Buck, Cerberean's Buckwheat, Am. & Can. UD, DO, NA (Novice Agility) became the first Newfoundland to earn an AKC agility title on September 23, 1994. At the time, he was 10-years-old.
Newfoundlands doing agility? At that age? Yes, and loving it! Buck actually got started in agility in 1988, when Buck and I attended Bob Self's Summer School for Dog Trainers in Galesburg, Illinois.
We had the opportunity to meet Bud Kramer, founder of the National Club for Dog Agility (NCDA), during one of the evening programs, and Bud introduced us to agility.
I was amazed at how quickly the dogs tackled and mastered the ramps, jumps and tunnels. The dogs clearly enjoyed the challenge (you could argue that anything looks good after a day of straight sits). Although I was concerned about the possibility of injury for the big dogs, the equipment was very sturdy, and easy for the Newfs to use.
In the next few months, Buck was in three agility competitions, and in February 1989, he received a Certificate of Achievement from the NCDA. What I didn't anticipate was how much Buck would enjoy this activity (both the exercises and the crowd). You see, as part of his performance, he always ran around the ring to the admiring applause and laughter of his friends in the crowd. I am certain he never had the fastest time, but he always gave the most entertaining performance.
The History of Dog Agility
Dog agility is a relatively new sport, started in 1978, that tests the dog and handler team's fitness, and also the team's skill in sending the dog over and through various obstacles in a set sequence. In competition events, the list of obstacles includes ramps, open and closed tunnels, the tire jump, as-well as various other jumps, the see-saw, and a dog walk (a board one foot wide and four feet off the ground with an ascending and a descending plank.) The course for each competition is designed by a judge assigned that day; thus, each course is a unique challenge to both the dog and handler. Speed or course time is also considered in the final score, and the importance of speed depends on which agility organization one is competing in (see discussion of agility groups below).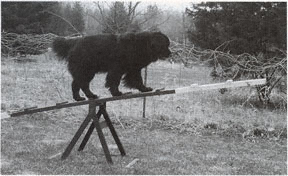 Although there are rules, dog agility as not a precise sport, such as some people might consider competitive obedience to be. Agility does allow the dog a chance to show off his or her natural athletic abilities, and most dogs (and handlers) appear to be having fun when training or competing in agility.
Dog agility was developed by Peter Meanwell and John Varley in England based on equestrian competitions. A demonstration of the new sport was first performed at Crufts Dog show in February 1978. From that time, the sport and equipment were refined in England, and by 1981, regular competitions and a national organization had been formed. In the United States, several different dog agility organizations have developed since the early 1980s, including most recently the American Kennel Club sponsorship of dog agility trials. Each organization has special features that may appeal to different types of dogs and different types of dog trainers, but there is no question that with AKC recognition, the sport of dog agility will increase public awareness and thereby increase the number of dog/ handler teams involved in agility competition.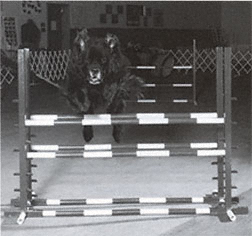 Prior to AKC recognition of the sport of agility, much of the emphasis in agility has been on two large (and philosophically different) groups here in the United States. One is the United States Dog Agility Association (USDAA) which welcomes purebred dogs as well as all American varieties. USDAA dog agility events have been developed with an emphasis on speed, strength, and international competition. USDAA obstacles are generally higher and narrower, and course times are, compared to other groups, very fast.
In contrast, the National Club for Dog Agility (NCDA), which was founded by Charles (Bud) Kramer, emphasizes participation by all dogs, and therefore, jump heights are generally lower and course times are slower than in USDAA competition. Actually, the NCDA organization has recently merged with the United Kennel Club. The AKC is the newest group in dog agility, having had its first shows in August 1994.
AKC Agility Competition
There are three levels of competition in AKC agility: Novice, Open and Excellent. To obtain a title at each level, three qualifying scores must be obtained under two different judges. The score relates both to the accuracy and precision with which a course is run, as well as the time it takes to run the course. This time is determined by the length of the course, and the level of competition.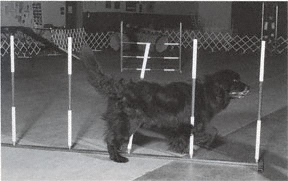 For example, in Novice competition, the standard course time (SCT) is two yards per second, plus five seconds for the pause table (included somewhere on the middle third of the course, on which the dog must lie down or sit, at the judge's discretion). For times over the standard course time, one point per second is deducted. A score of 85 points or greater (starting with 100) is required to obtain a qualifying score. Points may also be deducted for taking the wrong obstacle ("wrong course," a two-point penalty) or "ignoring" an obstacle ("refusal," a five-point penalty).
As you can imagine, accuracy is more important than speed, since with three refusals in novice competition, a dog is disqualified. A Novice course consists of 12-13 obstacles, including the pause table. In Open competition, the dog may only have one refusal without being disqualified, and the course time is 2.5 yards per second for 24-inch jumping dogs such as Newfies. In addition, more obstacles (15-17) are included in an Open course. At the Excellent level of competition, the course time is three yards per second, no refusals are allowed, and there are up to 18-20 obstacles.
Although no special rules have been made for giant breed dogs, in AKC competition the maximum jump height is 24 inches, the ramps are less steep, and the planks are generally wider and lower than in USDAA competition. Interestingly, special rules do exist for small dogs ("minis"); they are allowed longer standard course times in open and excellent competitions. To become more familiar with the details of the rules, an AKC Agility Rule Book can be obtained from the AKC.
Buck and Bosco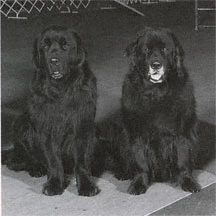 Since 1989, dog agility has become extremely popular, but almost all training and competition until recently in our area of the upper Midwest was in USDAA rules. Although Buck is a good jumper, I never felt he could competitively jump 30 inches on a repetitive basis, and therefore we did not participate in USDAA activities.
When AKC agility started, Buck was ready. We are fortunate to have both an excellent training school for dog agility (the Animal Inn, Lake Elmo, Minnesota) as well as an active agility club (the Minnesota Agility Club, Inc.) in our area. Between these two organizations, we have been exposed to outstanding trainers, experienced competitors, and fun matches and licensed shows with both USDAA and AKC regulations. We have also been very lucky to have neighbors with Belgian Tervurern who like dog agility even more than we do, which gives us someone to practice with in an informal setting.
So Buck had a refresher course in agility, while I introduced my younger dog, Bosco (Sweetbay's Bosco, TDX) to the obstacles. Neither dog was fearful and both enjoyed the running around. They do have different personalities: Buck looks to me for directions, while Bosco prefers to go into business for himself (a perfect set up for a wrong course penalty).
When Buck participated in an AKC show in August 1994, he got a score of 100 (no mistakes and faster than standard course time). He qualified in three consecutive shows, earning his Novice Agility title on September 23, 1994 in Seward, Nebraska at a show sponsored by the Greater Lincoln Obedience Club and the Seward County Kennel Club. On that day, he also had a score of 100 and won third place-not bad for a then-l0-year-old Newf.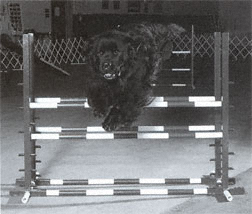 Bosco earned his Novice Agility title on July 21,1995. He also had a perfect score of 100, but in addition had the fastest time that day and brought home a blue ribbon. I don't mind mentioning that he beat a Terv and a Border Collie and won a $25 prize for first place!
Buck, nearly 12-years-old, has retired from agility but still participates in veteran obedience competitions. Bosco is working on his Open Agility title, which includes the performance of weave poles. As the name suggests, the dog must weave through a set of six to 12 poles spaced 20-24 inches apart. Bosco has not yet completed a clear round at the Open level, but I know he can do it, and he enjoys practicing and competing.
I am also certain that Newfies can do agility. What is needed is a physically fit and sound dog and handler team, sturdy equipment, formal or informal instruction, and practice. This should be a sport that promotes confidence in dogs, and fitness for both the dogs and handlers.
reprinted from NewfTide 1996