Evaluating and Training a Young Puppy For the Show Ring by Deb Wigal, DVM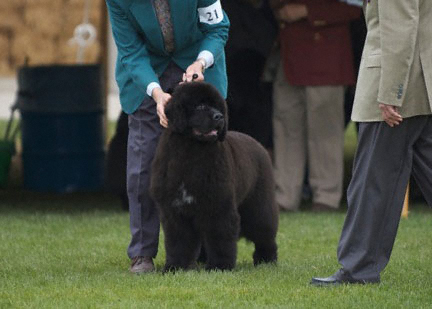 Evaluating a litter involves many things. First and foremost, the litter must be graded on the type, structure and soundness of each puppy. I spend many hours watching a litter play in the back yard. A puppy possessing good structure and balance will move freely and stack itself. I like a puppy with an attitude, confident and inquisitive, but not the bully. I would much rather try to tone down an overzealous puppy than try to give the puppy an attitude it may not have. A puppy that carries and retrieves naturally is an added bonus for those who hope to do obedience and water work.
Once you or your breeder have decided on the right puppy, there are a few simple things that can be done to help prepare it for a future in the breed ring. Puppies need to be comfortable on a table. They should be stacked and gone over from head to toe while standing quietly on the table. Each experience should be very positive. This can be accomplished by using plenty of praise and treats. All aspects of grooming need to be introduced. Nail trimming, combing, trimming with scissors, and blow drying all need to be experienced early on in the puppy's life. When the puppy is on the ground, always reward him for looking at you, and try and keep that attention as he grows. A puppy that comes to you should never be overlooked; even if you didn't call him, make sure that he knows how happy you are that he is with you.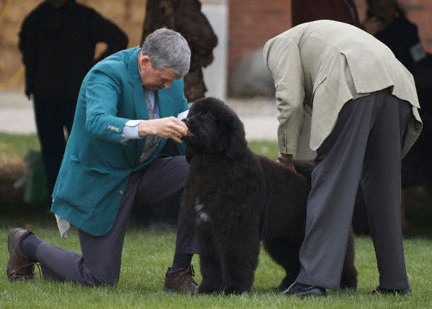 Puppies also need to be socialized at an early age in order to cope with the noises and stresses of a dog show. I expose puppies to as many new places as possible, trying to make each experience positive. Reward your puppy's confidence and bravery. Do not reward fearfulness. Rather, encourage him to explore and investigate his unfamiliar surroundings. Be sure to stack, bait and gait him in these new places. Puppy matches and socialization classes are great to attend, for both you and your puppy, if they're available in your area.
Have fun with your new puppy. They grow up way too fast!
reprinted from NewfTide 2001, Images © Chad Perry 2009, used with permission