Getting Your Newfoundland Ready for the Show Ring
Hints for Caring for, Growing Coat by Kathy McIver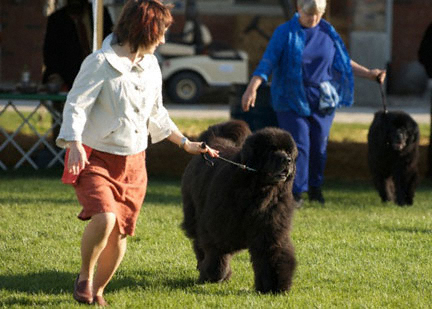 Trying to hold a year-round coat when it's 105 in the shade is no easy task. Some exhibitors keep their dogs in air-conditioned garages whenever it is hot. Others use misters to lower the temperature (by as much as 15 degrees) and add humidity. On the Internet's Show-Dogs-L list, the "Hair on Doorknobs" is popular and often requested (the recipe is at the end of this article). Another well-known exhibitor swears by a rainwater finishing spray, others just let nature take its course.
I asked a few Californians' their secrets for growing specialty-winning coat. Joanne Givens and Diane Price, long-time Newfoundland breeders and exhibitors, and Jayne Crouch, well known Newfoundland handler and groomer, were kind enough to answer my question, "What do you do to help grow and hold show coat?"
Jayne Crouch: "To have good coat, you have to start internally, especially in warm climates. Without healthy skin, inside and our, you can't expect the dog to be able to carry a decent coat. I think a male can be kept in good show coat year round, but it gets hard with a cycling bitch. It's important to be sure there's enough fat in the food you're feeding. I like to focus on the Omega 3 fats to improve coat. I like to bathe my dogs weekly, in lukewarm water, using EQuss Equine Shampoo. I find it keeps the dog's skin really clean. I know some people don't like to bathe their dogs that often, bur I think the Newfoundlands benefit from the frequent bathing. I use a white vinegar rinse after bathing. The vinegar seems to help prevent skin problems, and keeps the coat really clean because it removes any soap film. It makes the dog shine. I also use the EQuss Micro-Tek medicated spray on dogs with problem areas, like hot spots or rashes. I use a cool dryer to blow the coat. It stimulates the skin and doesn't dry the coat, causing it to break. Never brush a dry dog either. Instead, mist it lightly with water before brushing. Rather than a big trimming right before a show, I like to trim a little weekly. Done weekly, it takes less than 10 minutes to trim the nails, feet and ears. I like to maintain a light grooming on the body as well. I know some people don't like trimmed dogs, but all my clients like their dogs kept very neat. I find the trimming encourages coat growth."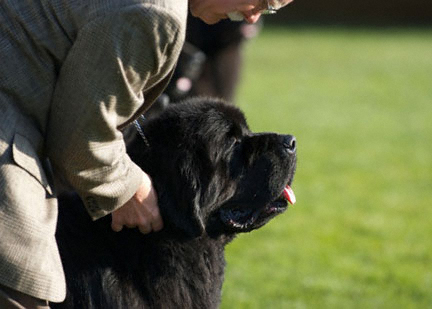 Joanne Givens: "It can be a real challenge showing a Newfoundland while living in a warmer climate. Our southwest winters are shorter, temperatures milder and drier, and we do not have the longer nights of our northern neighbors. Our Newfoundlands just don't need a heavy winter undercoat, therefore they spend much of the year in their "summer coat." Trying to overcome the length of daylight and environmental conditions that we are unable to change can be frustrating. The best possible advice I can offer is to selectively breed for heavier coat-the heavier, the better. Consider a line that carries outstanding coat year round. Of course you will still want a healthy coat, so be sure to feed a nutritionally balanced diet that includes essential fatty acids and digestive enzymes. One of my favorite tricks is a piece or two of avocado added to the daily ration for a dazzling shiny coat. Also, it is necessary to keep the skin and hair healthy with proper grooming and bathing. Be sure to include a post show bath to rid the coat of those sprays, enhancers, thickeners, etc. I like the Chris Christensen's shampoos. Regular blow drying-wet or dry-keeps the skin clean and stimulated. Daily misting or wetting all the way down to the skin dramatically improves coat density this seems to produce better results than any other coat growing method I've discovered. Our warm weather Newfoundlands may never be dripping in coat, but with some extra effort we should be able to have them looking representative of our great breed."
Diane Price: "Keeping a Newfoundland in good show coat in the summer months takes planning beforehand. I bathe the show dogs weekly and brush them every day. They also get a watering (wetting the coat down with the garden hose ... they love it) every day in the summer months. It truly does keep the coat in a "grow" mode. The type of shampoo you use is important. I use a degreasing shampoo for dogs. It takes the oils out, keeping the dogs from getting moist and allowing the coat to breath, eliminating the possibility of the dreaded "hot spots" Newfoundlands are so prone to in the summer months. I believe nutrition also plays a huge part in the coat of this breed. A high quality food, including essential vitamins, and oils (such as fish and flax) is fed daily. I must say genetic makeup plays a vital role in the amount of coat your Newfoundland carries and no matter what you do, summer may be time to take a rest from the show ring."
As for my own dogs, I like to spray them with warm water twice a day and brush them with gusto. This seems to help stimulate the coat and keep it in good condition. The only brush I use is a Chris Christensen pin brush. To prevent breakage, I use conditioner, such as Chris Christensen's Ice on Ice, on areas likely to get splashed with urine. I use a conditioner on the furnishings and tail as well. I bathe the dogs every two weeks when they aren't being shown, using EQuss Equine Shampoo. Weekly baths are the rule otherwise. I'm a big fan of a vinegar rinse as well. We feed a premium quality food, with a supplement designed for show dogs, such as Doc Kruger's. When the dogs start blowing coat, it is important to get rid of the old dead coat. Nothing beats a high velocity dryer for stripping dead coat out quickly, especially when coupled with a vigorous brushing. With the dead coat gone, your Newfoundland will soon start a regrowing cycle.
I use very few lights inside because somewhere I read minks kept in the dark grow a fuller coat. So what if the kids and I are always tripping over the dogs? What's a few broken bones if it means a Specialty win?
Whatever you try for your dog, remember all you can do is maximize the potential handed down in your dog's genes. If your dog's parents need a sweater in wintertime, chances are your Newfoundland will never carry that beautiful, thick, lush coat we all dream of. But, with care you can make the most of the coat your dog carries.
Hair on Doorknobs Recipe
16 oz peanut butter
16 oz honey
16 oz Miracoat
2 cups Lixatone
Mix well and store in the refrigerator. Give two to four tablespoons daily and watch the coat sprout!
reprinted from NewfTide 2002, Images © Chad Perry 2009, used with permission