Thoughts from a Professional Handler (via a phone interview with Michael Floyd by Ingrid Lyden)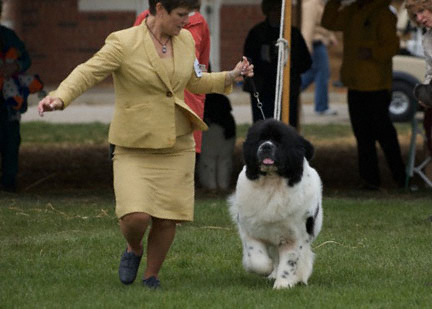 In order for a dog to be a strong show dog, type and temperament need to be present in great balance. Therefore, socializing one's prospective show puppy is the single most important thing an owner can do, according to Michael Floyd. This socializing can take many forms: attending puppy classes (not necessarily formal obedience), fun matches, handling classes, breed club events, and the like are all good ideas. The toughest battle for a handler is trying to present a shy dog in such a way that it doesn't appear to be shy. Any handler wants to be able to take a dog out and show off its best qualities and not have to fight with negative personality traits or major structural faults that impact the dog's performance. Having other people work with your puppy in new environments is a helpful strategy as your puppy needs to be comfortable being away from mommy and daddy in the future. Other all-around training procedures, such as general comfort and ease on a grooming table, pottying on a lead, crate and ex-pen training, and exposure to trimming, drying and brushing, are all items that any potential show dog owner should work on with their puppy.
When a prospective client contacts Michael, he tries to arrange a meeting with the owner and their dog. One advantage Mike has over the buyer and, even the breeder, is that he's usually judging the dog for the first time when the dog is already over four to six months of age (and often much older). This makes it easier to evaluate long term show potential versus what's seen in an eight to ten week old puppy. If Mike has some question as to a dog's total merit, yet feels the dog has strengths to offer, he will encourage the client to set a four to six show limit. After those shows have taken place, Michael and the client take a look at the results and reevaluate the dog before continuing. However, if Michael feels the dog is not correct enough, he is honest with the owners and encourages them to take their wonderful dog home and love them, but perhaps not venture into the conformation ring.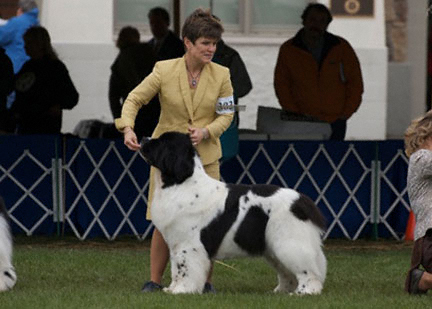 Michael encourages owners to be patient and to be willing to let their dog grow up. Too many people get their Newf puppy out too early. He remembers one client's nine month old pup that he refused to take then because of her immaturity and lack of coat. He encouraged the owners to take her home, do some training and have fun, then talk to him later. Two years later he re-evaluated her and shortly thereafter took her to a BOW award at the NCA National. He encourages clients to listen to the advice of their handlers, but also to be wary of a handler who wants to run with a puppy from six months of age on. Very few giant breed pups are ready for the real competition as babies, and handlers should be producing results if they handle your dog.
Once Michael does take on a client, his first job is to establish a good rapport with the dog. The more early socialization and experiences your Newf has had, the easier his task. Ultimately teamwork between the handler and the dog is the critical component he needs for a dog to be really successful. The dog should want to show and should enjoy it. Michael feels that it's important that the dog get something out of going to the dog shows and performing; the shows are not just for the handler and the owners. The job of the professional handler is to package a dog's traits (both physical and mental) and present them so that the best qualities are foremost for the judges to see. Minimizing less desirable traits is also part of his task, but having a dog who really wants to be out there makes this less of a challenge. Mike believes that ideally the dog is basically showing itself and Mike is just along at the end of the lead. This was especially true of his shows with Bobby. When one moves to the "big time" level (group and best in show competition), show dogs need to ask for it. That's really what the ring's about. Both the handler and the dog need to believe in it and in each other!
reprinted from NewfTide 2001, Images © Chad Perry 2009, used with permission