The Newfoundland Club of America established a Scholarship Fund in 1992 with the auction proceeds from Nell Ayres' estate forwarded by the Newfoundland Club of New England. Anne Williams donated items to be auctioned at the 1996 National Specialty and designated the proceeds for the Scholarship Fund. In 1997 the NCA Board assigned the Junior Scholarship to the NCA Charitable Trust. The original scholarship was $500 and has been increased over the years to $3000.

Scholarship Criteria:
• Applicant must be an NCA Junior member (if under age 18) or an NCA member in good standing if over 18 attending a higher education institution.
• Applicants may receive more than one scholarship.
• When applying for additional scholarships, applicants must document continued activity in Newfoundland activities within the year following the original scholarship application.
• Scholarship Award will be paid jointly to the student and/or his/her institution for registration and fees or in extraordinary circumstances paid to the student after the first semester is completed and proof of registration and attendance is provided to JSC.
• Applicants must document acceptance at an accredited certificate or degree granting institution.
• The award(s) will be announced at the National Specialty each year, but the actual cash award will be held until the winner(s) actually attends the higher education institution of his/her choice.
• Applicants must evidence interest and participation in showing Newfoundland dogs by ANY of the following:
- Competing in at least ten (10) Junior Showmanship competitions with Newfoundlands within the last two (2) years.
- Competing in at least ten (10) AKC dog shows in the last two (2) years showing either his/her own Newfoundland dogs or Newfoundland dogs owned by others in breed or obedience competition or performance events.
- Competing in five (5) or more NCA Water or Draft tests or earning two or more new NCA working titles within the last two (2) years.
- Competing with Newfoundlands in a combination of Junior Showmanship, breed conformation competition, obedience competition, performance events and/or draft or water tests adding up to ten (10) shows or competitions within the last two years.
• Applicants must apply on an official NCA Trust Junior Scholarship application form, which may be obtained from the Junior Scholarship Committee Chairperson. Applicants must document their participation in the qualifying events in a manner, which can be confirmed with AKC or NCA records.
• Applicants must include an approximate 1000 word essay describing his/her future plans and why they would be a good candidate deserving of this scholarship. This essay may include information on additional NCA and Newfoundland activities including water test work, draft test work, training or grooming of Newfoundlands, Regional Club involvement, junior mentoring, therapy dog work or community involvement with Newfoundlands. Other information indicating the applicant enjoys working with his/her Newfoundland would be appropriate.

The NCA and the Charitable Trust believe our Juniors are very important to the NCA and the future of the Newfoundland Breed. One way we demonstrate this comittment is by having a Scholarship that our juniors may apply for higher education. Here is a short biography of two of the NCA Juniors who have had grants from the NCA Charitabe Trust. The award was very helpful with the educational expenses for these two young ladies.
We are so proud when we hear how well our juniors are doing with their educations and with their lives as positive contributors in our society and to the world of purebred dogs.
Jessica Thibault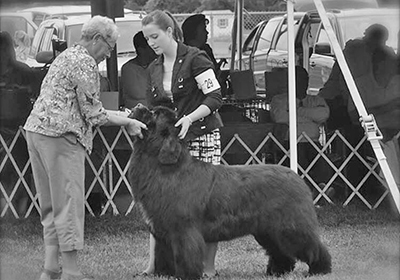 From childhood, I have been involved in the world of purebred dogs. As a third generation Newfoundland enthusiast, the decision to get into the dog show world was an easy one. From a young age I fell in love with the Newfoundland breed, a hobby that continued into my high school education. I attended Rockville High School for their Agriculture Science program where I majored in Animal Science. Throughout my time in the Agriscience program, I maintained my Supervised Agriculture Experience Project, which was part of the curriculum, breeding, raising and showing my family's Newfoundlands, as well as maintaining an apprenticeship to Richard Krieger, President of the Professional Handler's Association. In my senior year, I was awarded a generous scholarship from theNewfoundland Club of America to continue my education at the University of Connecticut. During my time at UCONN, I majored in Agriculture and Natural Resources, completed a minor in Agribusiness Management, and then moved on to complete my Master's Degree in Agriculture Education. I am now teaching Animal Science at Smith Vocational and Agricultural High School in Northampton, Massachusetts and continue to breed and show Newfoundlands.
My hobby has driven my education and career, and has certainly opened many doors of opportunity for me. Without my compassion for the Newfoundland breed, and my involvement in the dog show world, without a doubt I would be pursuing a career outside of Agriscience education.
Mariah Huge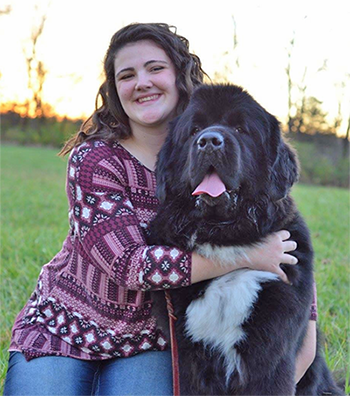 Mariah Huge grew up on a cattle farm in southwest Indiana between the small towns of Cloverdale and Spencer. She attended Cloverdale School Corporation throughout her 12 years of schooling, and she graduated from Cloverdale High School in May of 2016.
During high school Mariah was very active in FFA, 4-H and Youth Philanthropy. During her six years of active membership of Cloverdale FFA, she was involved in livestock judging, forestry judging, chair of community service, where she was the leader for two years for the large Christmas Toy Drive that the FFA, partnered with the police department, hosted in her Junior and Senior year. She held many offices at the chapter and district levels throughout her years of high school and FFA. She was also a 10-year member in 4-H, where she showed cattle, pigs and dogs. She was also very involved in the Putnam County Junior Leaders, where she was an active member and held many positions. Mariah is very active in showing Newfoundland dogs, and has traveled all over the country, handling and showing dogs. She has a passion for mentoring younger members and has left a mark on her local county dog club. She also had the opportunity to serve as a delegate on the Putnam County Youth Philanthropy Committee, where she set up all the community service activities. Putnam County Youth Philanthropy Committee awards grants for different service activities throughout the community.
Mariah is currently a Freshmen at Purdue University, where she is majoring in Animal Science concentrating on biosciences. Her goal is to attend grad school and get her PhD in Beef Cattle Nutrition or Ruminant Nutrition. Being raised on a beef cattle farm she has hands-on experience developing feed rations, that led to her passion for animal nutrition. Her long-term goal is to work for a large feed company and develop new feed rations for show feeds and every day feeds also, for livestock or just cattle. Being at Purdue, she had the opportunity to pledge for the Purdue Reamer Club in the Fall '16 semester. The Reamer club is the spirit of Purdue, and maintains the Boilermaker Special, the official school mascot of Purdue University.
Mariah has been able to grow from a shy girl to a very outgoing and personable young adult. She has had the opportunity to show dogs in 4-H and AKC shows. When she was younger her grandma was the Putnam County 4-H dog leader, and Mariah always tagged along to all meetings and shows, and found a new passion - showing dogs. Her mom strongly advised a Newfoundland when she was a little girl, her dad finally caved in and let her get her first puppy. 13 years later you can still find the Newfoundland loving girl in the show ring, not as much as she would like to be, but enough to keep her passion alive.
reprinted from NCA Charitable Trust Annual Report 2017