Getting Your Newfoundland Ready for the Show Ring
Training for the Breed Ring by Kim Griffith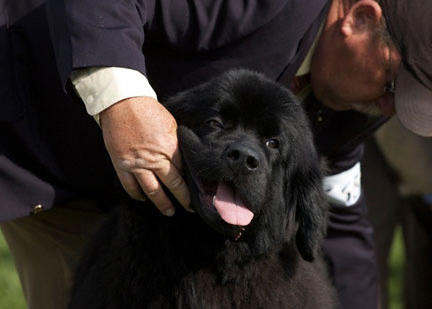 We are fortunate to have an article authored by Kim Griffith from California about training your dog for the breed ring. Many of us have admired Kim's skill when handling Newfoundlands throughout the years. Although now active as an all-breed handler, Kim obtained his first Newfoundland when he was a teenager in 1965. He began breeding under the Skipjack prefix in the early 1970's and breeder/owner handled numerous dogs to their championships, including a number one ranked Newfoundland and Best In Show winner. Kim is always helpful to others, particularly novices, and has recently been added to the NCA Judges' Education Committee. - Ingrid Lyden
I was asked to write an article concerning the handling of dogs, the Newfoundland dog in particular. I struggled even to find a focus on such a large subject matter. I've always believed you start at the beginning. The beginning for handling lies in your lead, collar, voice and touch.
There are a lot of different types of collars and leads. I can only offer what I find to be effective for myself I use a soft leather lead, two to three feet in length, one quarter to three eights of an inch in width with a medium size clasp. The leather should be strong and not stitched. The leather should be soft as to not cut your hand and also fold up into your hand. The collar should be a choke chain, (I hate the name), of medium to light in size. There are many different types. I prefer the rolled chain or a tight medium link chain. Nothing big or bulky, but it always should be strong. The collar should leave enough room for you to put your hands between the dog's neck and collar.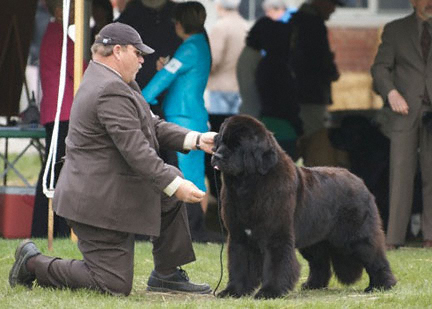 The placement of the collar is important, right behind the ears and around cleanly under the throat. This placement is important so that you never need to be overly aggressive in your training of your dog. The collar placed as I described will allow you to train your dog and both you and your dog will have fun. If you allow the collar to slip down onto the neck, the dog will hardly feel your corrections. Frustration will then set in for you and your dog.
Your voice is your most important tool. You should be able to reward as well as reprimand your dog with your voice. The Newfoundland lives to please you. Develop one or two words of praise and use them consistently when rewarding your dog. Do the same with negative words. When reprimanding your dog be quick and strong with your voice. The closer you can be to the act that you want to correct, the better chance you have that your dog will put the reprimand and the act together. I believe that one cannot talk to their dog enough. It is not so much the words as it is your tone. Your voice alone can calm a dog quickly.
Your last tool is your touch. Your hands should be strong, confident and reassuring. When you need to move from one position to another, let the dog know what you are doing. Move your hand along the body of the dog. Do not surprise him or her.
There are a couple of basic rules when training and showing your dog.
• Have fun.
• Be consistent.
• Keep it simple.
• Have more fun.
I hope to see you and your dog in the ring soon.
reprinted from NewfTide 2003, Images © Chad Perry 2009, used with permission