Agility With A Newfoundland - Why Not?
by Jenni Lott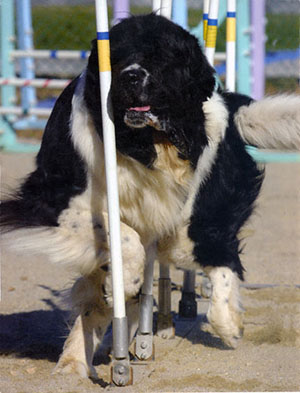 When most people think "dog agility," odds are they aren't thinking about the Newfoundland. Border Collies, Shelties, even Golden Retrievers come to mind, but certainly not Newfoundlands. That is one of the reasons that competing in agility with my Newfoundland Gus is so much fun, and also one of the reasons it can be so frustrating.
Gus began his agility career in 1997. We had finished his CD, earning him a Versatile Newfoundland award just before his third birthday. I wanted to try something new. I really wasn't sure what to expect, but it quickly became apparent that Gus adored this new game. Training involving lots of food rewards certainly didn't dampen his enthusiasm either.
Although Gus was fearless on the equipment, I was not. It didn't take long for me to collect a yard full of low training boards and jumps to give him daily practice so that we could gain confidence as a team (and so. that I wouldn't faint when he ran full speed across the foot-wide dog walk). We began competing a year later.
I soon learned that agility competitions with a Newfoundland could be frustrating-especially when working with a dog that earned his previous working titles so easily. Although Gus earned his first qualifying score at our first AKC trial, it took four more months to get the other two legs toward the NA (Novice Agility) title; and it rook two more YEARS to earn his NAJ (Novice Agility Jumpers) title and to get his first leg in Open.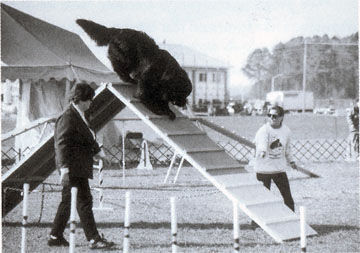 There is a reason light boned, nimble dogs, such as the Border Collie are the norm for the sport. Agility equipment and courses are the same for all breeds (with the exception of the jump heights) and are designed for the "average" dog. We all know that Newfs are far from average! A large, heavy boned dog such as the Newfoundland is at a disadvantage when it comes to negotiating courses with tight turns (those darn laws of physics get in the way). They have to learn to run at a crouch through the tunnels. They don't have any margin for error when crossing the dog walk or the teeter, and jumping off the A-frame from above the contact zone is more like a big step than a jump. Dropped bars were (and still are) definitely our nemesis. Gus can easily clear a 28" obedience jump from a complete standstill two feet in front of the jump, but I'm convinced that sometimes he can't be bothered with picking up his feet. Let's face it; knocking into a jump bar is just no big deal when you're the size of a Newf.
So, what is it that makes agility competition with a Newfoundland so much fun and keeps us coming back for more? At an agility trial, Gus and I definitely don't blend in with the crowd. Gus is almost always the biggest dog there and I'm almost always the smallest handier. I've been told we are quite a sight in the ring together. The spectators love Gus, just as much as he loves showing off for them. He never fails to get a big round of applause for his performance. When Gus and I compete, no matter how we do in the ring, we get complete strangers complimenting us on our runs. I may be frustrated because my poorly executed cross-behind caused Gus to drop the bar on a jump (again!), but it's hard not to smile when people you've never met go out of their way to tell you what a pleasure it was to watch a 130 pound Newfoundland fly around the ring, knocked bar or not.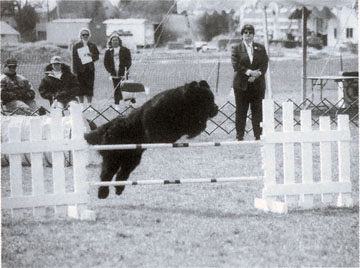 And nothing can match the exhilaration of having a fast, clean run AND placing first, ahead of the Border Collies. At one trial, I overheard the competitor who placed second behind us in the Open Standard class (she had a Border Collie) tell her husband "I can't believe we were beaten by a Newfoundland. I had no idea they could move that fast." To which he replied, "That wasn't a Newfoundland, it was a Border [Collie] on steroids."
Agility may be dominated by Shelties and Border Collies, but don't let anyone tell you that Newfs are too slow, too clumsy or too lazy to compete-and to win. If you are interested in getting started in agility with your orthopedically sound Newfoundland, look for instructors that use positive reinforcement, emphasize safety and have experience working with giant breeds.
Thanks to Sharon Bozeat for sharing this video of Romeo running a Standard Agility course in 2017
reprinted from NewfTide 2002